Across the United Kingdom there have been thousands of people out protesting against Brexit. They may argue that it is about the length of the prorogation of Parliament, that few extra days, but it is really about Brexit.
There have been sizable crowds in London and some of the cities in England today though other protests have been rather poorly attended.
So how did Belfast fare? I was waiting for the BBC and Sky to provide coverage of the Belfast demonstration, which started at 10.00 am at the City Hall. However Belfast didn't seem to feature. Instead I had to rely on the Press Association and newspaper websites and they did provide helpful reports with a few photographs and several interviews.
The first thing that struck me was the dismal turnout which was described as 'dozens'! The highest estimate appeared to be the one quoted by the Irish Times reporter, which was 'around 100'.
'Dozens!' I said to myself, 'dozens!' After a Liberal Democrat MEP telling us ,a few days ago that Brexit would lead to 'unprecedented violence' and after all the outrage from the Alliance Party, the SDLP and Sinn Fein, I was expecting thousands on the streets. But all they got was a few dozen and here's the photograph from the Press Association to prove it.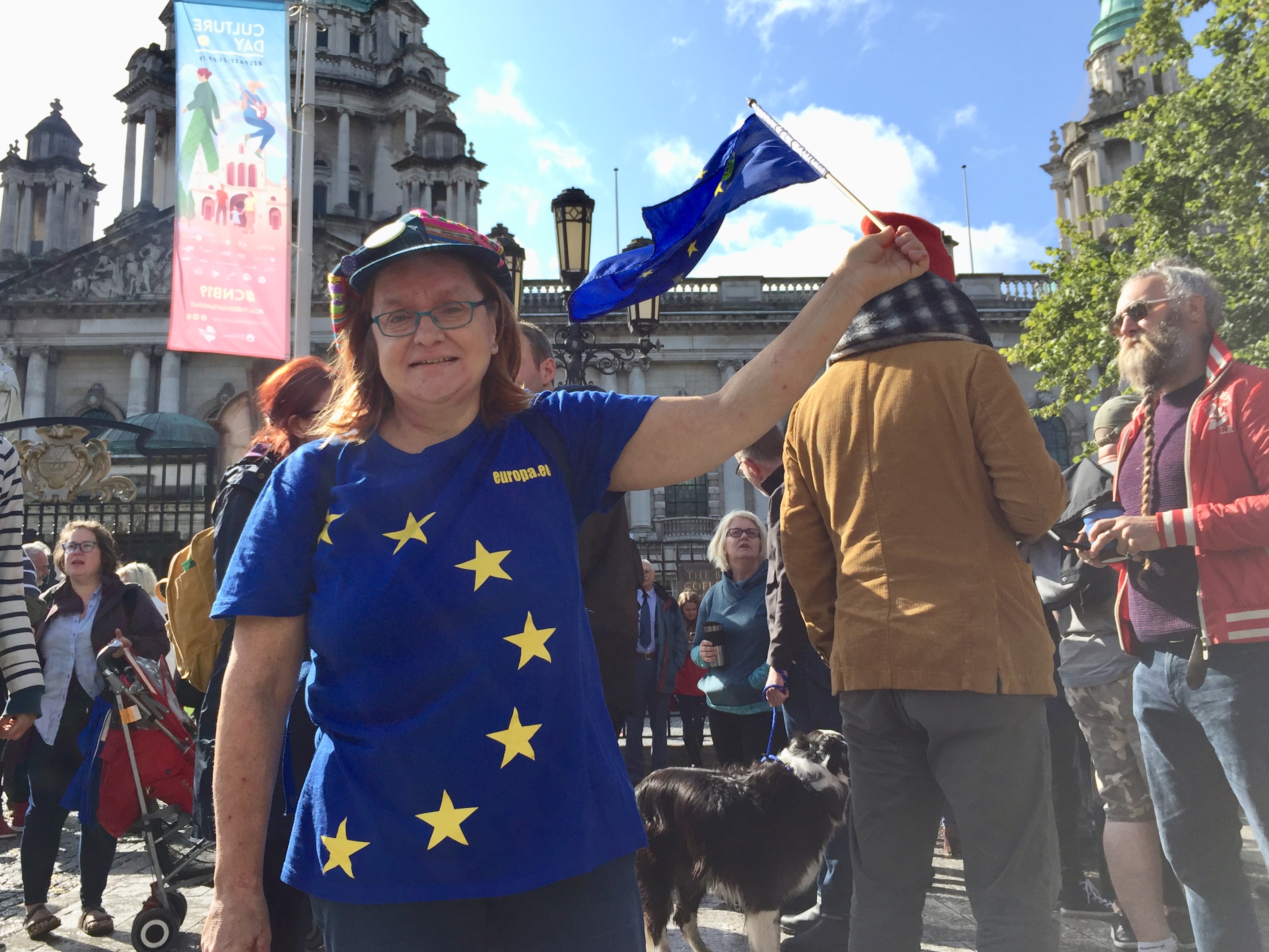 Well they were right there, dozens it was! So what about those interviews?
Brenda Gough from West Belfast, 'one of those who had promoted the event', was interviewed and said, 'We no longer have democracy because elected representatives of the people of the UK have been told they will no longer be able to speak for their electorate.' Sorry Brenda but is Parliament not sitting next week?
Susie Burlace (46) from England edits a health journal and has been living in Northern Ireland for seven years. Later she said, 'Good turn out at Belfast City Hall.'
Dr Brigitte 'Gitty' Anton (52) (pictured above) is from Frankfurt in Germany but has lived in Northern Ireland for 31 years. She was there with her EU flag and a T-shirt with the message 'B....x to Boris'. A former vice-chair of the Labour Party in Northern Ireland, she stood for the Northern Ireland Assembly in South Belfast in 2016 and polled just 246 first preference votes. As she has a PhD in modern history and as she is from Germany I would have hoped that she might not go down the road of comparisons with the Nazis but she did. She drew parallels between the prorogation of Parliament and Nazi Germany.
Patrick Yu from the Council for Racial Equality was there too as was Londoner Rob Stead, who said he and his wife had'fled' England to move to Northern Ireland because they were so dismayed by the Brexit vote. In fact his wife is studying at Queen's.
Graham Glendinning (49), a software worker from Holywood, said, 'If they go ahead with no deal, it's war and peace for us.' I'm not clear as to what he meant by that but that's what he said.
The media coverage given to such protests is out of all proportion and where they get a dismal turnout it gets glossed over.