Sinn Fein commemoration for the Brookeborough IRA raid
In my Belfast Telegraph column today I highlighted the hypocrisy and inconsistency of Sinn Fein on New Year's Day in protesting against a 'drag hunt' in North Down in the morning and then commemorating and celebrating an IRA attack in the afternoon.
There is a Sinn Fein calendar of IRA commemorations and the Brookeborough event, which commemorates an IRA raid on 1 January 1957, marks the start of another year of that calendar of shame.
However the hypocrisy of Sinn Fein is further highlighted when we recall their voting record in the Northern Ireland Assembly.
When the Wildlife and Natural Environment Bill came before the Assembly in 2010 there was an amendment which placed a ban on hare coursing, and this was passed by 23 votes to 18.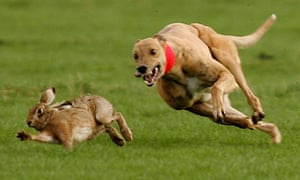 Hare coursing - backed by Sinn Fein
However when the Bill came back for its Further Consideration stage on 7 February 2011 the Sinn Fein MLA Francie Molloy, now the Sinn Fein MP for Mid-Ulster, attempted to amend it and prevent a complete ban on hare coursing. Indeed during the debate he said, 'I support coursing'.
In the end his attempt was voted down by 53 votes to 33 but that 33 included Molloy and the other Sinn Fein MLAs.
Sinn Fein supported hare coursing but oppose fox hunting.
So the next time Sinn Fein attempt to assert their 'progressive party' credentials by protesting against fox hunting, it is worth remembering that the party backed the retention of hare coursing.