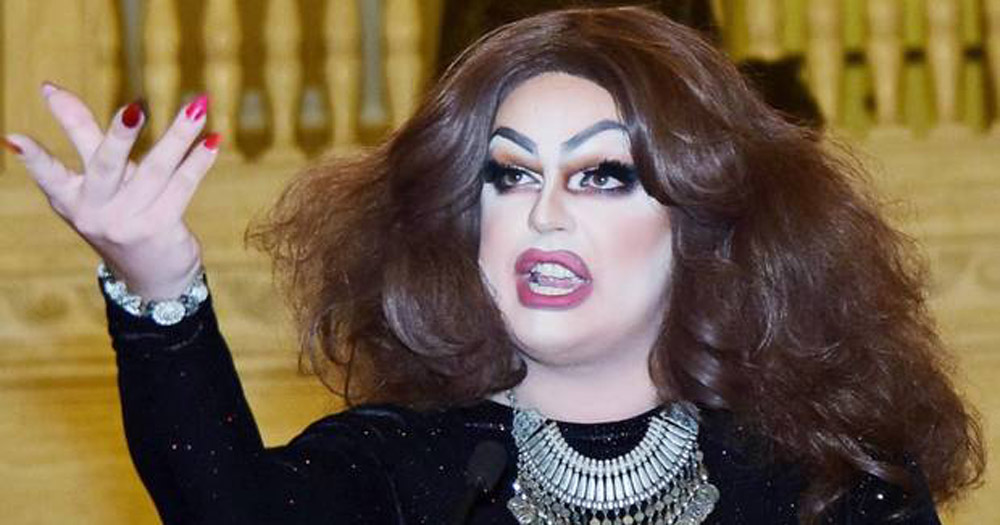 Controversial drag queen Electra La Cnt, wasn't just to the fore at Stormont
or at the Gay Pride Parade -
Electra was also one of the readers for a Gay Pride storytime for toddlers in a Belfast Library
A 'drag queen' who performs under the name of Electra La Cnt has been in the news as a result of the recent Alternative Queer Ulster event at Stormont.
Footage of the event shows drag queen Electra swearing loudly into the microphone during a speech. At one point Electra shouts: 'I am going to be ... queerer than queer and I f*****g love it' Then at the end of the speech Electra shouts, 'Up the f*****g queers', while punching the air. This performance was greeted with rapturous applause from the LGBT audience.
The event was organised by the section of the Green Party who call themselves 'Queer Greens' and was one of the main events during Gay Pride Week.
There is however another aspect to the central figure in this story, Electra La Cnt.
Last year Framewerk Gallery in Belfast organised a Drag Queen Storytime for small children in Holywood Arches Library. This was part of the Gay Pride Week and was facilitated and promoted by Libraries NI. Framewerk is based on the Upper Newtownards Road, a short distance from the library.
There were four readers in 2017, Electra La Cnt, Lady Portia, Captain Pink Beard and Sassie.
Afterwards drag queen Electra La Cnt said, 'Reading to children in drag has been the highlight of my career so far. It was lovely to get a chance to shape the future.'
Drag queen Electra La Cnt in Holywood Arches Library in 2017.
The organisers of the storytime event were named as Framewerk Gallery but within Framewerk there is a strand named Queerwerk.
The Drag Queen Storytime was repeated this year for Gay Pride Week but with more publicity and initially it featured on the Libraries NI Facebook page but was removed before the event took place.
LGBT books in Holywood Arches Library, Belfast,
as well as a Gay Pride flag during Gay Pride 2018
However the Framewerk page (Saturday 28 July 2018) has this photograph of the library prepared with a Gay Pride flag and books about families with same-sex parents. Indeed Framewerk were so pleased that they encouraged people to enter the library for a Belfast Pride Festival Award.
This photograph on the Framewerk blog features two drag queens and a drag king and has the caption: 'Thank you to everyone who made it to Drag Queen Storytime at the Holywood Arches for Pride 2018. Another beautiful event filled with love,'
Onya Becks, Electra La Cnt and Chef Bon Bon
For those unfamiliar with Framewerk it is a framing business in East Belfast that also runs arts classes and describes itself as a '100% Queer Ally'. That's why it was organising 'Print with Pride' the previous Saturday.
This was facilitated by local artist Zipporah Reynolds, who is described as a 'Belfast-based queer artist', and here is some of their handiwork.
The picture above, from the Framewerk blog, shows some of the work produced by Queerwerk and illustrates a 'Queerwerk Printing Workshop with Artist in Residence Zipporah Reynolds'.
Yet this is the organisation which organises the 'Drag Queen Storytime' for toddlers in Holywood Arches Library.